Largemouth bass
fishing on our local watershed lakes during the months of February and March offer your best shot at sticking, not just a pig, but your best possibility for catching multiple pigs on the same day.
For example, if you hit lake
Phoenix Lake
on the 3rd or 4th day of a warm weather pattern, you should start to see schools of fish that had been suspending in some of the deeper holes begin to break up and start cruising the shallows. The majority of these fish will be males in the 1-3lb range. But, the big females in the 3-12lb+ range will stay behind in so called "staging areas" where they await the full moons that light their overnight visits to the shallows where the males have been busy building nests in preparation for their arrival.
These "staging areas" are usually the first deeper water away from the spawning areas. If you are fishing a cove, they will be mid-water-column, at the mouth of the cove. This is one of the only times of the year that big fish will be concentrated in a small area. These fish are also now a little "lure dumb" from having not seen many artificials for the past two months.
The best way to target these bigger fish is to run a
reaction bait
right through them - something like a
Lucky Craft LV Max-500
in the Mad Craw color, or a reddish or craw colored larger
Rat-L-Trap.
You can also throw double-willow bladed Spinnerbaits as well, but for effective results, you should run a trailer hook because they will be striking short and slow.
If you don't get bit, move along and let those fish relax. After about 40-50 minutes make the same casts. This time however, you might try
slow rolling
a 6-8"
Castaic Trout Swimbait
Most importantly - don't change your retrieve if you feel a small tap - keep the slow roll going and don't set until you feel the full weight of a large fish loading up the rod. Another option is to let a 5, 6, or 7"
Senko
(Watermelon/Black Flake is a good starter color) glide and fall slowly with a horizontal posture right past their noses on a slack line. Watch to see your line either twitch, jump, or (oh boy!) start swimming away before setting the hook
That said,
Nicasio Reservoir
appears to be happening right now. Yes, it's still pretty cold and the low water conditions are not exactly the stuff of dreams. This larger body of water lacks the cut and dried patterns of Phoenix Lake, but if you have the right baits and are ready to work a little bit,
Nicasio
can reward you with more 5-pound-plus fish then any other lake in Marin County.
With
Nicasio
, it's all about spots. Best bet would be to take a baitcasting set up with 15-20lb test line and a brass and glass rigged green pumpkin Brush Hog. If you have another set up or two you can also throw a chartreuse chatter bait, such as the
BooYah Boogie Bait
, a white/chartreuse spinnerbait, or a 4-5" swimbait like the
Storm
Chartreuse Shiner, or the River2Sea baby bass. If you want to fish for a big bite, throw the
Castaic
slow sink platinum series Sunfish or a
Berkley
10-11" Power Worm in black/blue or june bug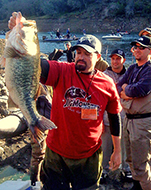 I wanted to give special mention to
Noah Stevens
, he is a regular customer of the shop and a highly skilled jig fishermen who is known to prowl Lake Alpine with the Jigmonster Lava Craw Jig and stick some quality smallmouth bass from time to time. Noah is also a member of the
Sonoma Belly Boat Bass Club
and just won their first event of the year with only two fish, one of them being an astounding 11.94 lbs for a new club record, way to go Noah!
I also wanted to say thanks to everyone who came out to the 1st open meeting of the
Marin County Bass Club
which met at the San Rafael store. Special thanks are in order to
Chris "Flipper" Franks
who gave an excellent seminar on swimbait fishing in our area. Chris is an up-and-coming tournament pro and member of the
Jigmonster
bass fishing team.
Meetings for the
Marin County Bass Club
are held the second Wednesday of every month and are open to the public. For more info on the club please visit
californiabasscraft.com
. Our next meeting will be on March 11th at Western Sport Shop in San Rafael. I will be giving a free seminar on jig fishing both from the bank here in Marin and from the boat on our major tournament waters. This presentation will cover all aspects of jig fishing, including types of jigs and where and when to fish them.
The
Marin County Bass Club
will also be holding a big fish derby on March 21st at Phoenix Lake. The entry fee for the event is $15 and you must sign up before March 14th. Look for more details here or call me at the San Rafael store - 415-456-5454.
Now get fishing!