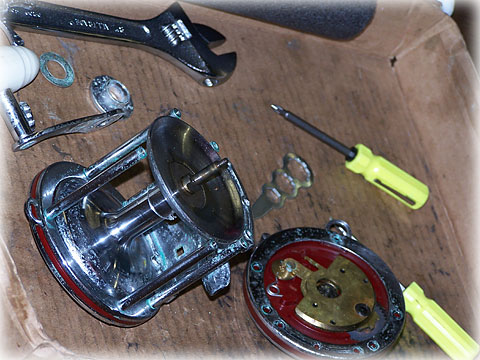 When do you want to service your fishing reel? Well, before it starts growing green fur like this one did...

We were extremely lucky to have fishing reel tuning & repair expert Alan Tani in our San Rafael store for another of his free "Hands-On Reel Repair Clinics".

This is for all the anglers who want to learn some basic maintanence techniques and don't mind getting down dirty.

All you need some reels in need of cleaning (Conventional only - sorry - spinning reels are not invited!) and a willingness to learn.

Alan will be on hand to walk you through the steps of breaking down your reel, analyzing the things which need to be fixed, and getting everything back together (hopefully with no parts left over!) and running smoother than you can remember!

Please note - this class is limited in size, and attendees may be asked to limit the number of reels they work on to allow others the opportunity to learn. So, mark your calender for Saturday, April 11th at the San Rafael store - work starts at 10 am and we'll kick you all out at 4:00 sharp!